Course
At the age of 13, Mélanie started playing traditional violin with Xavier Vidal. Very quickly becoming passionate, she made her debut on stage with the group Les Cousins du Quercy under the leadership of Guilhem Boucher, then with Trio Abrégé alongside Rémi Geffroy.
Music taking more and more place in her life, Melanie decides to dedicate her studies to it. She obtained a Deug in jazz musicology in 2015 and a DEM in traditional music at the Conservatoire (CRR) of Toulouse.
It was while participating in the Ethnofonik project in 2016 that Melanie's interest in Swedish music was declared. She decided to live there for two years to learn the subtleties of Swedish music, first at the Eric Sahlström Institutet, then at Malungs Folkhögskola. There she studied violin, but also dance and singing.
On her return to France, Mélanie joined the Dahu collective, but also the Kreiz Breizh Akademi #8 directed by Erik Marchand. She also joined the team of Adda du Lot as a teacher of traditional music and school speaker for the awareness of music and Occitan culture until 2020.
Mélanie's insatiable curiosity has led her to explore many styles and repertoires (Occitan, Swedish, Irish, Breton, but also classical and jazz music).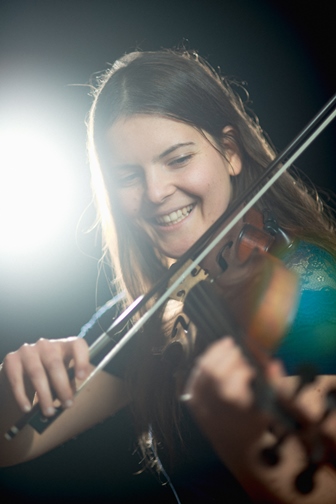 Contact me at
For information about the groups, projects or questions, do not hesitate!